Certifications & Appraisals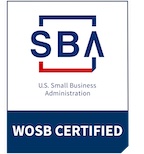 Women-Owned Small Business – WOSB
Congress has mandated since 2000 a budgetary goal of 5% of all government prime contracting dollars to women-owned small businesses (approximately $15-20 Billion Dollars). In February of 2011, the SBA determined there are 83 NAICS Codes where women are significantly underrepresented. To aid women in making inroads into these industries the SBA has allowed for set-aside contracts to be issued in these NAICS Codes. The NAICS Codes with the least amount of women-owned firms require the WOSB certification for the firm to be awarded set-aside contracts.

Maryland Department of Transportation Certified MBE/DBE
The Maryland Department of Transportation's (MDOT) Office of Minority Business Enterprise (OMBE) is Maryland's official certification agency for the Minority Business Enterprise (MBE) Program, the Disadvantaged Business Enterprise (DBE) Program and the Airport Concessions Disadvantaged Business Enterprise (ACDBE) Program. MDOT administers both the State of Maryland MBE participation goal, as well as the DBE participation goal for contracts that receive assistance from the U.S. Department of Transportation (USDOT). Current MBE law requires agencies to make every effort to achieve an overall minimum goal of 25% of the total dollar value of their procurement contracts directly or indirectly from certified MBE firms.

Maryland Small Business Reserve

The Small Business Reserve Program specifically targets small businesses registered with the Department of General Services where certain procurements may be designated as a small business reserve only. For procurements designated as such, only certified small businesses will be awarded such procurements. This provides a level playing field for small businesses allowing them to only compete against other small businesses.